Storyboards for Production Planning

For producers or scriptwriters whom need to convey camera movement, characters, sets, blocking, plots and other necessities, often hire a storyboard artist. Often the storyboard artist is also a concept artist can develops all the needed elements including:
Looks of characters and supporting characters.
Looks and themes of sets (scenes) including props.
Detailing the elements in shots, scenes and or actors interacting in time.
Demonstrating camera blocking, composition & movement.
Planning a feature film.
Planning a video or television production.
Planning a TV commercial, showing demonstration to the camera crew.
Demonstrating a script visually to a film, video or TV crew.
Other needed developments.
Below is a storyboard frame sequence depicting a feature I am working on.  In concept art production. This is the pencil draft version to keep some elements private. The series is in the concept art phase and script development, and I am the writer & artist.



Below is a pen & ink pre-color grouping of storyboard art frames.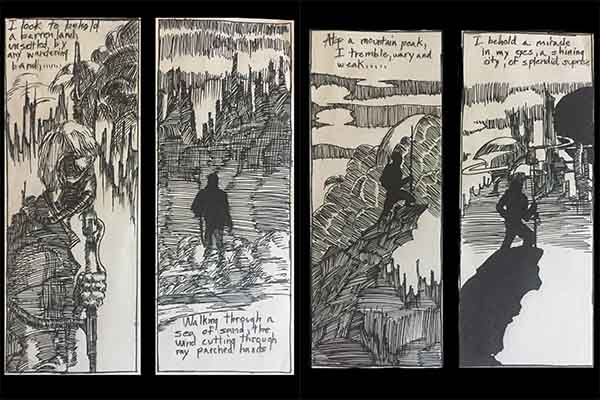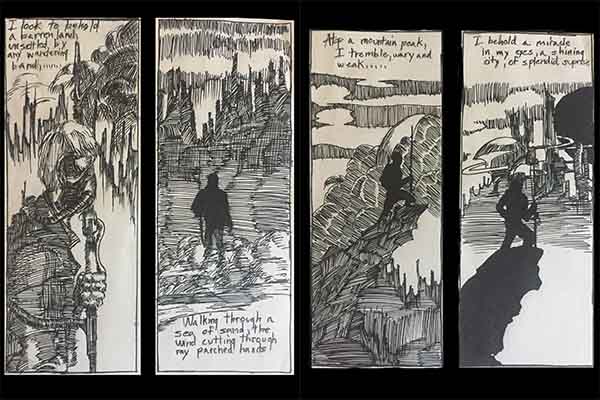 Read more about storyboard artwork services.
Read more about concept art services.
Move back up to the top of this post or use the menu above this page to learn about more media production, video, TV and photography.
Ads