Mister Photon Media provides complete crews,
or crew members for video, film or television production in Colorado


Telephone: (720) 299-2084

For those needing personnel to support video crew, TV, film, ENG, EFP, corporate video, or other productions, Mister Photon Media provides personnel throughout Colorado.

Our crew members to support you include:

DP/DOP/director of photography,
Videographer
Camera Operator,
Gaffer,
Grip,
DIT - digital imaging technician,
Data Wrangler,
Location sound recordist, sound engineers, audio technicians, etc.,
Assistant Camera - AC, camera assistant,
Producer,
Director,
Teleprompter Operator,
PA/production assistant,
Among other professional freelance crew members to support any type of gig.

Additional service past video, film, television or other crew services

Aside from videotaping, filming or recording, but our additional areas of expertise can benefit any type of client.
Including for any type of video, film or television production, these services & expertise include:

Corporate video or PR or company communications, internally or externally to employees or clients or customers,

Political television commercials or online video campaigns, speeches, town meetings, conventions including video or photography,

Any type of business video production, with prior experience providing crews for specific industries,

Experience for non profit organizations, PSA or public awareness campaigns, public safety announcements,

Specific personnel to support incoming crews, directors of photography, producers or other productions coming anywhere in to Colorado,

B Roll / Background Roll, interviews, any type of program or production content acquired,

Testimonial video production with interviews, narration, B Roll, or other media acquired & combined,

Television broadcast content acquired, live shots, live news/SNG, B Roll or supplemental content, interviews or other TV production,

Other production expertise / capabilities.

Support for any type of video, film or television production.

Below are links to some of our work samples from Mister Photon Media, that open in a new window/tab at YouTube's web site.

Click this link to

www.misterphoton.com

to keep our site in a new browser tab. Or review some more of our samples at

our YouTube.com channel >


3 camera interview in Centennial Colorado with Denver Broncos QB Peyton Manning


Television commercial sample for a political campaign


Live shot for the UFC in Colorado Springs, 2 man video crew


SPEED TV piece, Barrett Jackson


CNN piece photojournalism by Nick


ENG video, ABC by DP/DOP, videographer & cameraman Nick Teti in Aurora CO
Every client can have a unique need for hiring a contractor, so Mister Photon Media offers a diversity of solutions, bringing the diversity of production experience that includes:
TV/television crews shooting for specific broadcast networks, shooting for specific programs or commercials with exact experience to the program's type: cable, reality, commercials, politics, live broadcasts (concerts etc), factual entertainment, journalism, current affairs, TV commercial advertising or other need.

35mm film crews including director's of photography or personnel for entertainment, features, advertising, documentaries, advertising or other productions with 3p film stock or 35mm high definition cinema cameras. Also shooting with 35mm format HD video equipment, as well providing qualified crew members for supporting directors of photography, to form crews or other support anywhere in Colorado.

ENG video crews / Aka ENG camera crews for news, live shots, uplinks, SNG, investigative reporting or related broadcast video with preferred network cameras. These crews are also often called a ENG camera crew services.

Professional videotaping, filming, digital video recording for video, film or television production with preferred cameras by our videographer's. With transfer, editing, transcoding, or other services to clients.

HD or SD video crews equipped with specific cameras, shooting (videotaping or recording) either PAL or NTSC; for any type of production, we shoot the right format match to your needs as a client.

EFP video crews aka EFP camera crews for specific programming or other production needs, including for cable, main broadcast networks, or non broadcast production.

Corporate video production crew services - aka a corporate video crews for businesses, producers, production companies or other clients.

Media transfer & conversion to DVD, YouTube, FTP, Drop Box, WeTransfer.com, videotape, or other digital video file format. Back to the page's top
Colorado Areas & Our Service Areas
We are in the local major metro areas in minutes, but consider Mister Photon Media for a local resource where needed in Colorado for video, film or TV production. The links below are to Google Maps for your reference. Please hit your back button to return to our website URL: http://www.misterphoton.com or copy & past our website URL into another tab or window of your browser.
Denver & Metro Colorado Areas
The Denver metro area is the highest population density surrounded by Aurora, one of the state's largest cities. Other metro areas for our services include Centennial, Lone Tree, Glendale, Englewood, Sheridan, Greenwood Village, Littleton, Lakewood, Golden, Morrison, Arvada, Wheat Ridge, Federal Heights, Westminster, Thornton, Northglenn, Bow Mar, Lakeside, Parker, Castle Rock, Cherry Hills Village, Ken Caryl or Commerce City. Back to the page's top
The Boulder Colorado Areas
Boulder is bordered by Lafayette, Louisville, Niwot, Longmont, Jamestown, Marshall, Valmont, Superior, Niwot or Broomfield. Further out includes Sugarloaf, Estes Park, Summerville, Lyons, Nederland, Hygiene, Gunbarrel, Eire, Eldorado Springs, Pinewood Springs, Allenspark, Eldora, Coal Creek, and in between the Denver area & Boulder are Golden, Arvada, Wheat Ridge, Westminster areas. Back to the page's top

Colorado Springs & it's surrounding areas
Colorado Springs is the largest southern city, with other south cities including Larkspur, Cripple Creek, Monument, Woodland Park, Pueblo, Cripple Creek, Elizabeth, Kiowa, Black Forest, Divide, Falcon, Penrose, Canon City, Peyton and we also have worked throughout other southern Colorado cities as well.
Back to the page's top
Southern Colorado areas
South Colorado starts around Woodmoor, Palmer Lake, or Monument near Colorado Springs. Southern Colorado areas span Gleneagle, Black Forest, Green Mountain Falls, Cascade, Manitou Springs, Cimarron Hills, Stratmoor, Security, Fort Carson, Fountain, Pueblo, Rye, Colorado City, Penrose, Canon City, Lincoln Park, Williamsburg, Coal Creek, Brookside, Salt Creek, Boone, Avondale, Fowler, Olney Springs, Crowley, Manzanola, Sugar City, Cheraw, Rocky Ford, Swink, La Junta, Lamar, Las Animas, Starkville, Cokedale, Trinidad, Aguilar, Walsenburg, Branson and Kim CO areas. Anywhere in the state, count on Mister Photon Media for production.
Back to the page's top
Fort Collins & Northern Colorado areas
The major north areas & cities in Colorado include Fort Collins, Greeley or Loveland CO. Our camera crew has provided services throughout northern Colorado and crew member solutions as well. Northern CO includes Red Feather Lakes, Virginia Dale, Wellington, Laporte, Timnath, Campion, Berthoud, Mead, Nunn, Pierce, Ault, Eaton, New Raymer, Windsor, Severance, Evans, La Salle, Plateville, Gilcrest, Johnstown, Kersay, Grover, Peetz, Crook, Padroni, Ilif, Fleming, Sterling, Atwood, Merino, Brush, Fort Morgan, Fort Lupton, Wiggins, Keenesburg, Hudson, Dacono, Frederick or Firestone. The largest bordering metro area near Denver includes Thornton, Westminster, and Northglenn.
Back to the page's top
Colorado Rocky Mountain areas & Sangre De Cristo Mountains
These map links take you to Google Maps. Larger populations in these foothills and mountainous areas in Colorado include Evergreen, Genesee Park, Georgetown, Idaho Springs, Silverthorne, Winter Park, Breckenridge, Dillon, Vail, Aspen, Glenwood Springs, Bailey, Conifer, Steamboat Springs, Keystone, Copper Mountain, Beaver Creek, Avon, Black Hawk, Beaver Creek, Central City, Morrison, Winter Park, are most known. Lesser but more populated production areas include Woodland Park, Cripple Creek, Monument, Manitou Springs. Other Mountain areas include Cordillera, Tabernash, Fraser, Granby, St Mary's, Victor, Hot Sulphur Springs, Kremmling, Grand Lake, Hayden, Craig, Oak Creek, Eagle, Gypsum, New Castle, Silt, Carbondale, Basalt, - El Jebel, Rifle, Parachute, Battlement Mesa, Leadville, Divide, Elkton, Goldfield, Flourissant, Fairplay, Alma, Blue River, Climax, Red Cliff, or Minturn. Bordering the Rockies is Golden and into the mountains, as well Lakewood, Ken Caryl, Monument, Littleton, Highlands Ranch, western Castle Rock and Pueblo are all bordering the Rockies. Back to the page's top
Far Western Colorado areas
Grand Junction is the largest western Colorado population and we have provided crews and personnel in this area among other west areas. Other areas for our services include Colorado's Rocky Mountain areas, The Sangre De' Christo mountain ranges, Gunnison, Crested Butte, Durango, Telluride, Orbard Mesa, Palisade, Fruitvale, Clifton, Redlands, Pagosa Springs, Wolf Creek, Glade Park, Dinosaur, Twin Lakes, Rangley, De Beque, Gateway, Nucla, Naturita, Norwood, Dove Creek, Dolores, Cortez, Towaoc, Mesa Verde, Mancos, Mountain Village, Ophir, Silverton, Animas Forks, Bayfield, Alamosa, Ingacio, Alboles, Chama, South Fork, Del Norte, San Luis, San Pablo, Center, Monte Vista, La Jara, Sanford, Romeo, Antonito, Blanca, Fort Garland and La Veta.
Back to the page's top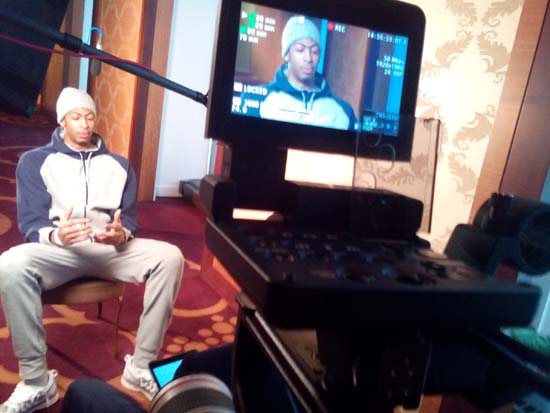 Eastern Colorado areas
The east Colorado's areas are vast as well. From the northern to southern border of Colorado, Eastern CO starts from Brighton. Other eastern Colorado areas include Wiggins, Brush, Log Lane Village, Akron, Otis, Yuma, Wray, Haxton, Holyoke, Lamar, Venango, Grant, Madrid, Elsie, Wallace, Hayes, Center, Burlington, Bethune, Stratton, Vona, Selbert, Flagler, Arriba, Genoa, Limon, Simia, Calhan, Avondale, Boone, Olney Springs, Fowler, Crowley, Manzanola, Rocky Ford, Swink, La Junta, Sugar City, Cheraw, Las Animas, McClave, Wiley, Granada, Hartman, Holly, Two Buttes, Walsh, Vilas, Springfield, Walsh, Campo or Prichett. Back to the page's top

Yo hablo Espanol tambien - Los camarógrafos - cámara de la tripulación y miembros todo en Colorado.