Colorado Gaffer, Grip, Grip Truck
Colorado Gaffer & Grip, Mister Photon


With gear along with years of experience lighting and rigging. For all types of video production, film and television Nick is a Colorado resource as a gaffer or grip. Mister Photon provides Colorado area gaffer & grip services in anywhere in the state. 
Nick's additional skills and equipment can also be a resource to form a camera crew for clients in Colorado or coming to Colorado for production. 
1 (720) 299-2084


What is a Gaffer & Why hire one?
A gaffer bringing lights and grip equipment to a camera crew can be the crew's new best friend. It's impractical to fly large and oversized lighting or grip gear. That can also weight down travel costs. They can also arrange other camera equipment to assist a camera crew.
An experienced gaffer can assist a camera person whom isn't comfortable lighting specific things. Lighting background or larger areas or even subjects. A gaffer is the director of a grip, key grip, swing grip, dolly grip or others assisting with lighting & rigging.
They may also double as the gaffer and grip. Gaffers are hired by camera crews or come with them on many types of video, film or TV productions.
What is a Grip & why hire one?
Grips assist the gaffer in lighting tasks, moving equipment, and operate lighting, diffusion or other light control gear or lighting instruments. The grip on a smaller crew can double as the gaffer as well.
If you need assistance with moving equipment, lighting, or someone bringing gear to add to the crews inventory for a production, then get a grip. If you need a grip, gaffer, or other crew members in Colorado to arrive with equipment, call Mister Photon. 1 (720) 299-2084. To grip can also be doubled as the gaffer on a small camera crew.

G&E?
Can be a gaffer and electrician or a grip and electrician responsible for distributing electricity sources on a set or in a studio or elsewhere. They also assist in lighting, like a gaffer or grip does. Working generators or electrical distribution equipment as well.
Operating large generators and distribution devices takes a G&E person and trying it yourself, can result in harm to a person or property. Especially when using large generators or electricity sources or high output lighting devices.
Renting a larger generator and distribution equipment requires the knowledge of a veteran professional. If you're not experienced it's not advised to operate larger power sources and lighting. 


How about a camera crew?
If traveling a camera crew is not cost effective for your budget due to airline tickets, hotels, airport baggage fees, tolls, rental cars & travel costs. Consider hiring Mister Photon Media for your local Colorado video crew, film or TV crew. Or hire us to provide freelancers to form your camera crew for any type of production.
Here's an example below providing gaffer and location sound assistance.
Mister Photon's Grip & Lighting Equipment List
Dollies
Dana Dolly with 3′, 4′ and 6′ speed rails
Avenger floor dolly
Doorway Dolly
Pipe Dolly
Nick has experience with other types of Dolly's as well.
We have also worked on larger grip trucks like semi-trucks loaded with armadas of lighting, generators, grip equipment, and other lighting control, as well, several rigs.
Jimmy Jib / Camera Crane
40′ Jimmy Jib that can be reduced in size to 6 feet for smaller locations or for differing types of camera movement.
We operate the jib and drones as well
Sliders & Rigs
Dana Dolly with 4′, 5′ & 6′ rails
Manfrotto Gimbal
AGUS camera slider
Experience with others & access to others
Vision Monopod
Newer shoulder mount
Wooden Camera shoulder mount
FlyCam 8000 with vest
Ronin & EZ-Rig
Fig Rig type camera wheel
LevelCam
Experience and access with other SteadiCam rigs.
We have experience with several other rigging devices as gaffers or grips and can provided these or use provided equipment as we have several times in the past.
Grip Equipment
Gaffer, Grip, Grip Truck or Van available with equipoment. Or other camera support as well.
If you need to hire a gaffer with a grip truck or van, or a complete crew.  Mister Photon is there for you in any part of Colorado. Here is a list of our grip equipment and we have access to other grip equipment and lighting gear.
2000 watt generator
Dana Dolly
(8) C-Stands
(2) Gary Coleman's
(2) Juniors
(8) sandbags
(2) full apple boxes
(2) Mayfers
(2) Cartellinis
(6) ceiling scissors, grip clips
Arri ceiling clamp
(2) 5 in 1 silk / reflector and one additional gold & silver sided smaller reflector
4×4 Bounce
10×10 butterfly frame
rags brought per specific conditions
Flags – single, double, solid: in both 18×24 & 24×36
42" ¼ silk
42" ½ silk
4×4 flag reversible in white & black
(2) 4×4 frame for gels or silks (gels expensed per client need)
4×4 rags include: silver, gold, black, white, silk, spun
Gray Muslins, Douvatine other colored Muslins & backgrounds
Botero portable green screen,
chroma key papers and other colored papers
Neutral Density, Full Blues and other color correction rolls
(3) 1k dimmers
electric cords
Seamless paper rolls
Go back up to the table of contents.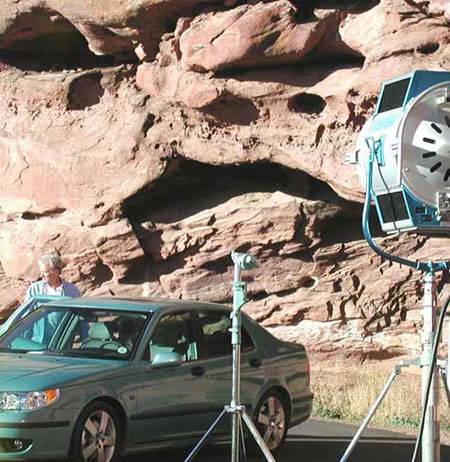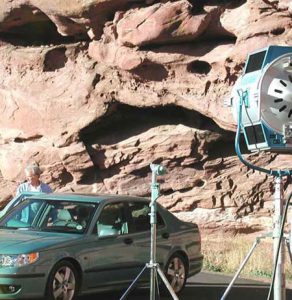 Lighting List

Kino Flo Diva Lights
3x Diva 400 Watt lights
2x Diva 200 lights
Floziers & crates
Access to others
Additional Kino Flo & Flo lighting available with advanced notice (Tegra 4 & 8 bank kits). Other LED panel lighting is also available.
Arri Fresnels
150 watt Fresnel x 2
300 watt Fresnel x 4
650 watt Fresnel x 4
1000 watt Fresnel x 4
2000 watt Fresnel x 2
HMI Lighting
2 x 200 PAR with lenses, speed rings and Chimeras
400 PAR
575 Fresnel with speed ring
1200 PAR
Additional HMI lighting is available with advanced notice.
LED Lighting
6x 600 Watt dimmable LED lights with barn doors (1×1′)
1 50 Watt LED sun gun (3200 K or 5600K temps)
Access to other LED lighting
Chimeras & Diffusion
2 x XS Chimera & 2 speed rings
2 x small Chimeras & 2 speed rings
2 x medium Chimeras & 2 speed rings
1 large Chimera & 1 speed ring
2 XL + 1 speed ring
3 stop 38″ silk
6 stop 38′ silk
4′ roll of 215, 250 at 13.00 per foot (4×4=52.00)
Additional gels & diffusion for smaller lights or at 13.00 per 1 on larger
(3) 4×4 frames
4×4 Spun, 4×4 Spider Silk, access to others
Color correction gels and diffusion gels for smaller lights (fresnel or LED or Kino Flo)
12×12 butterfly with diffusion
Other larger cloths for frames and backgrounds
Go back up to the table of contents.


Other Camera Support
Professional Monitors & Recorders
Panasonic BT-LH1700A
Elvid 7″ HD Monitor
Atomos Inferno 4K recorder, that can record QuickTime ProRes, or DNxHD
Convergent Design NanoFlash, that recordist MPEG, QuickTime, MXF formats up 1080 HD.
We have Sony and JVC SD monitors as well, although our HD monitors & recorders can handle SD video formats as well.
Go back up to the table of contents.
Tripods & Tripod Heads
Sachtler 20III with Gitzo carbon fiber tripod legs.
Sachtler 3 stage carbon fiber legs.
Manfrotto 516, 501 head with aluminum tripod legs, and spreader.
All these tripods in the skilled hands of Nick as your videographer or director of photography. We also provide camera operator services among other videographer services.
These tripods are popular among camera people and film, television or video crews.
Go back up to the table of contents.
Stabilizers & Rigs
Zhiyun Camera Gimbal
Vision Monopod
NEWER shoulder mount
Wooden Camera shoulder mount
GlideCam with vest
Ronin with EZ-Rig
Fig Rig
LevelCam
Experience with other SteadiCam rigs
Nick as a veteran steadicam operator or providing one on a camera crew or referring to you.
Additional Gear Available
Aside from this like to our other equipment that Mister Photon Medi owns, we have access to other gear as well. please visit this page. or give us a shout at: 1 (720) 299-2084
Computers & Laptop Listing
Need someone to help as a DIT, Data Manager or Wrangler, Mister Photon can help. Bringing additional laptops, card readers, software and the experienced camera crew member to help with this as well.
2016 MacBook Pro 15″ model
Apple Cinema display
15″ HP Elitebook laptop
Mac Pro (Aluminum tower)
Additional monitors
Video & Graphics Software Capabilities




by Nick / Mister Photon Media
Adobe CC for both video production and photography needs.
Adobe CS6 for both video production and photography.
Final Cut X for editing video, coloring or file conversion.
Davinci Resolve for both video editing and coloring or converting files.
Office, and other communication software.
Other media applications.
Go back up to the table of contents.
Video, Film and Television Production




Demo Reel (playlist)



You can skip forward with arrow or icon, or to re-watch videos, please refresh the page. You can also skip to our video by category page.
Contact Information 1 (720) 299-2084
Additional Camera Equipment
& Colorado Camera Crew available
For a complete list of production gear, please visit this page.
Mister Photon Media has additional camera equipment and gear available as a crew or a gaffer or grip to provide to clients or other camera crews coming to Colorado for video production, television or film productions.
If you need a entire video crew, film or television crew, Mister Photon specializes in these services, as well referring or providing camera crew members to help you form a camera crew in Colorado for your production.
For clients needing a gaffer, grip, grip truck or camera crew, Mister Photon, we cover all Colorado and also travel.
Northern Colorado from Thornton and north
The larger North Colorado areas (Fort Collins, Greeley areas)
East/Eastern Colorado (Brighton being the largest area)
South/Southern Colorado (Colorado Springs or Pueblo being the largest areas)
West Colorado (Starting in the Rocky Mountain areas)
Further Western Colorado (Grand Junction among other CO areas)
Arvada
Aspen CO, including Carbondale or Snowmass or other areas
Aurora
Avon Colorado (near Vail)
Bailey CO
Basalt, near Aspen
Beaver Creek (near Vail)
Black Hawk CO
Boulder CO
Bow Mar, in the Lakewood area
Breckenridge
Brighton
Broomfield
Castle Pines
Castle Pines Village
Castle Rock
Centennial CO
Central City (next to Black Hawk)
Cherry Hills Village
Colorado Springs
Commerce City
Crested Butte
Dillon
Durango
Eagle Colorado
Eastlake CO
Edgewater CO
Eldorado Springs
Englewood
Estes Park
Evergreen
Fountain, south of Colorado Springs
Fort Collins
Frisco
Georgetown CO
Glendale
Glennwood Springs
Golden Colorado
Greeley
Greenwood Village
Gunnison
Heritage Hills
Highlands Ranch
Idaho Springs
Ken Caryl
Keystone CO
Lafayette Colorado
Lakeside CO
Lakewood Colorado
Littleton or Columbine
Lone Tree
Longmont
Louisville
Loveland CO, (the Ski area or northern CO)
Manitou Springs
Monument
Nederland
Northglenn
Parker Colorado
Pueblo
Sedalia
Sheridan Colorado
Silver Plume
Silverthorne CO
Snowmass Village
Steamboat Springs
Telluride
The Pinery
Thornton
Vail
Westminster Colorado
Or wherever else needed in the state call us (720) 299-2084


Television production from cameraman & director of photography Nick Teti,
along with our HD video crews: Mister Photon Media.
End of Page, Move back to the top.

Ads by Google