1 (720) 299-2084
Freelance Colorado Camera Crew Members
Mister Photon Media helps clients, crews, networks and other with specific camera crew members where needed in the Colorado. We're not a staffing firm with no or little knowledge of the personnel referred. We have a group of freelancers whom can be referred directly when out of our expertise, or we can team up. Or we provide the easy button and bring the entire crew for video, film or television production.  Or we can provide single or more freelance expertise.


A specific type:
ENG video crew for live broadcast.
Film crew with 35mm format cameras; either 3p or modern cameras
Television Crew with SPECIFIC program experience.
Corporate video production crews.
EFP video crew (a camera crew covering anything for clients).
2-person video camera crews or larger.
Web Video Streaming services.
Other types of camera crew services.
Anywhere needed in the state.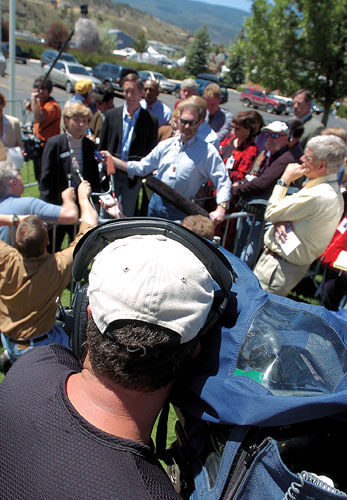 Years of freelance partnerships
Nick of Mister Photon media has been a freelance production professional since 1996 and knows several circles of friends who can be referred. Or provided in a reliable crew. Mister Photon Media never subs out unknown camera crew members to save on markup either. You're in the best production hands.
Director of Photography
Cameraman or camera operator
AC – Assistant Camera or camera assistant
sound recordist
Director or AD
Drone Operator
Jib Operator, AKA camera crane operator
producer
gaffer
grip
still photographer
DIT (digital imaging technician)
Data Wrangler or Manager
Production Manager
Location Scout
Location Manager
Makeup Artist
Food Stylist
If you do not see a expertise mentioned give a call at (720) 299-2084 and we will still able to assist you directly or refer you the right help. Mister Photon!