Types of Colorado Camera Crews
Mister Photon: Any Type of Crew,
Anywhere in Colorado
(720) 299-2084
This page describes the common types of camera crews there are by specific production and expertise, including Mister Photon's. In case you're wondering where you need a specific type of camera crew, Mister Photon provides these services statewide.
We can provide individuals to form other crews or assist other crews, producers, networks or other types of businesses with these services. Whether you need a 2 person video crew or larger, film or television crew, or other type of group, including for a specific type of program or production or need people supporting you Mister Photon Media specializes in these solutions for clients.
As a client/producer or network, also know our experience and expertise spans all of the types of crews listed below, and our versatility for these types assignments with the equipment needed.
Types of Camera Crews from Mister Photon
This section explains the types of camera crews and how Mister Photon Media's expertise applies to you as a client or potential clients producing a video, film or television production or specific program.
Camera Crew
This is the broadest and oldest term that is often used to apply to most or all types of types of crews listed below, as well in our expertise aside from the original term "film crew."
Camera crews can have expertise in many types of productions from:
television in programming or advertising,
documentaries,
sports,
company video productions,
feature film or motion picture films,
time lapse, news,
videos for the internet or other message
entertainment.
The term film crew has evolution in the term camera crew as camera crews originally started as film crews before video. Then became an all phrase can fit all or common use. With 4K and larger sensor cameras, as well, HD video, many films or movies now are recorded in a video format.  There are the die hards out there whom cinematography is best filmed with 35mm or other motion picture formats.
With C-Log, and S-Log, as well hyper-gamma recording modes in many cameras, as well 4k sensors or larger, that can replicate the contrast / dynamic range of film without having to use several magazines of varying film stock. Modern cameras have pushed more film cameras away from cinematography.


ENG Video Crew or ENG Camera Crew
A term for electronic news gathering, and can be applied to a video crew recording video for broadcast news or news for some online portal or website. Sometimes this type of crew can be equated to other types of video crew services.
SNG, satellite news gathering typically involves an uplink or satellite video truck that uses satellites to broadcast/transmit recorded video to another receiving source such as another satellite truck, television station or similar destination. Sometimes these crews transmit video live or to a network with a LiveU or TVU device. These devices aren't cost effective for partially active users due to rent overhead, but are used frequently by broadcast networks.
Other alternatives are to send video to another bureau from an affiliate bureau, by these technologies of satellite or by LiveU, TVU or file sharing or cloud video sharing. File sharing and cloud sharing takes longer to process typically, and is not desirable for same day news.
Nick, our founder has a large news and ENG, as well broadcast television background, aside from other backgrounds as a videographer, director of photography, as well still photographer. Our camera crew is also versed as an ENG video crew with several of our crew members having credits globally in broadcast television.
 NTSC Video Crew
The North American Television Standards Committee or the group that phrased the term for a video format that is typically broadcast in North America, Central America, Japan, Canada and some other countries. The original frame rate was in 30 or 60 frames a second. With fields being 2 portions that make interlaced video picture. The progressive formats of on single frame as a picture came into broadcast around progressive cameras and now common in HD or 4K or larger formats. HD is the most common standard television format. Other common frame rates in NTSC are 24 or 60p or progressive. With technology in camera and networks evolving both NTSC and PAL have some flexibility in frame rates.
PAL Video Crew, Phase Alternate Line Video
A frame rate in 25 frames a second or 50 frames a second broadcast in Europe and many other surrounding countries. These formats were based originally in the hertz or electrical timing in these countries. Pal video basically now runs in 25 or 50 frames per second. PAL video can be SD, standard definition, HD, high definition, 4K or UHD or larger pixel dimensions. This is the same in NTSC as well for pixel dimension sizes per each frame of video.
Film Crew
This is appropriate to a crew filming with a film camera, but has been misused in instances labeling a video crew as a film crew. With the technology of 35mm format video cameras that have the resolution of 35mm format motion picture film, this can still be an appropriate or for higher pixel count sensors. The film crew is still in existence in motion picture production, however many cinematographers/directors of photography have transitioned to larger format or Super 35 format sensor based cameras for video, film or television production, including feature film production as it's digital and you have a actual picture of the camera, as opposed to the sometime guesswork exposure of 35mm or Super 70mm film formats where the film has to be developed later, scanned and . Film crews are led by a director and or director of photography and often require more crew members and use cameras including 16mm, Super 16mm less commonly, but more often 35mm or Super 70 format film cameras. We will not go into all of the advantages of using 35mm based video cameras (UHD or 4k or larger resolutions) over film cameras in depth, but a few are:
The ability to white balance the camera to varied lighting temperatures with more ease not having to light for film stock that is loaded in the camera's magazine.
The medium of electronic video can be reviewed during & right after recording.
Film is more delicate that storage media, and required more space.
Motion Picture Film can be easily damaged and therefore requires more due diligence.
Film stock is limited to filming times, ASA\ISO ratings, and color temperature requiring more due diligence to adapt to the film stock than video requires.
Film stock requires scanning to be converted to video, to be easily viewed or more easily edited.
Film is often scanned then synced with the sound that is recorded separately, ultimately ending in a video based edit and delivery most of the time.
Editing with film can result in loss, if the film is snapped, broken, frayed or mangled. Film editing also often always goes to a video transfer.
Most film cameras do not have sound recording capabilities requiring additional sound recording and syncing to the sound recorded later in editing/post production.
Corporate Video Crew,
Aka Corporate Camera Crew
This is a video crew recording and or producing for a business video production or making a video for a corporation. With so many types of business video productions here's a short list of types of corporate video productions:
B2B videos: typically business to business advertising or some motivational message trying to compel another business into action.
B2C video: business to consumer video productions typically in advertising services or products for sale.
Sales or Marketing Video: is an advertising video that is typically not a television commercial but some type of advertising based on DVD, Blue Ray, and electronic video file format or used over the internet, like in social media.
Satellite uplink or Video Streaming Device: Uplink trucks or satellite trucks can be a sharing way-point to send and receive video, as well communicate interactively
Streaming videos, podcasts & similar videos for social media.
HD Video Crew, High Definition
HD or high definition has 2 primary common formats, 720p or 1080i or p, and Mister Photon Media has ample choices for high definition video crews, a director of photography, videographer or camera operator for clients anywhere in Colorado for any type of video or television production. 720p is 720×1280 pixels, and 1080 formats are 1920×1080 interlaced or progressive scanned camera formats. There are older HD formats in 1080 resolutions like 1280 x 1080 or 1440 x 1080 pixel formats that can be scaled to 1920×1080 resolution. Mister Photon also have ample choices in both NTSC or PAL based video cameras that also extend into 4K and 6k formats. There are older HD formats that recorded in similar resolutions like HDV videotape, older P2 or DVCPRO HD cameras, but much technology today follows the common 720p or 1080 specifications.
4K Video Crew or Larger (5K, 6k, 7K, 8K onward)
4K is a perfect medium for cinematography/motion picture film making, corporate video production, television commercials, infomercials, among other uses in either video or film production. 4K video or UHD is in our camera crews inventory, as well experience. Nick also has experience with 5K, 6K cameras, including RED, and Mister Photon Media can provide you a 4K or larger format video crew/film or television crew, or director of photography services, or assist you as a DP/Dop with support like AC/assistant camera, sound recordist, gaffer, grip, data wrangler, DIT or other assistance. Our expertise includes supporting other directors of photography, networks, producers among other clients whom need solutions that are needed anywhere in Colorado.
Television Crew / TV Crew / Live Shot Video Crew or TV Crew
A video crew specializing in producing and recording live broadcasts or recording them in advance with video camera (film cameras being less relevant and often now less desirable due to the advances in video). The video is then transferred to either the video production company or the network directly and edited before broadcasted.
Live Video, Live Broadcast Video Crew
Live broadcast technology is used for live shots such as LiveU or TVU units, or a satellite truck (sometimes called a news truck or uplink truck). There are other live video streaming technologies but they are used in CDN/content delivery networks. There are overlapping video crews in this category including television, ENG video or a news video crew. All types of live programming can be recorded and switched, while being broadcast live. This takes a larger video crew,  more technology, and assistance from the live location to the the coordination at the broadcast television network.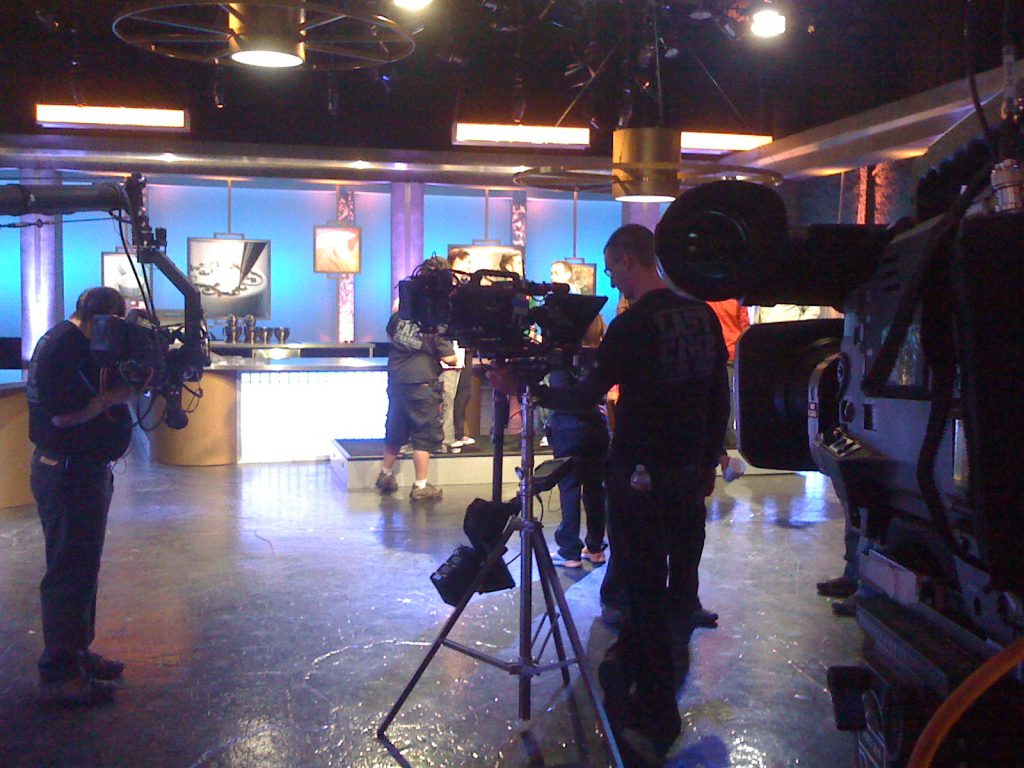 Video Crew or EFP Video Crew
EFP means electronic field production and this type of video crew is most commonly associated with television production or live broadcast, and can sometimes be also termed a television crew or TV crew. Most of a EFP video crew's production in the past has been associated with broadcast either for a television commercial, infomercial, specific type of television program and also to non broadcast production like a corporate video production or modern social media video or CDN or other online delivery where the video is produced and then shared to shared live in some instances.
NTSC or PAL Video Crew or Camera Crew,
or EFP Video Crew
NTSC is a television standard commonly in the United States of America, Canada, Japan among some other countries. Much of Europe uses a PAL video standard and frame rate for broadcast television. Common NTSC frame rates for synced video, as well audio that can be watched without effect on perception of time or look include 23.98, 24, 29.97, 30, 59.94, or 60 frames per second for broadcast television standards. Many modern HD, 4K or larger format cameras offer frame rates to match both NTSC and PAL or film production standards at the time. Although the frame rates vary per style of type of production, the electric cycle if mist lighting is 60hrz, so matching shutter speeds & frame rates in close numeric values can decrease flickering effects. These rates can include 24, 30, 48, 60, 80, 120 are most common frame rates & shutter angles. Overcranking / over cranking, that is recording at a higher fps/frames per second is considered over 60 fps. This is achieved by recroding at a higher frame rate then playing back video or film at a slower frame rate.
PAL Video or PAL Camera Crew
PAL is a European television frame rate & broadcast standard of 25 fps (frames per second), or 50 fps most commonly. Most SD/older formats in  PAL video were a higher resolution than NTSC when it comes to standard definition video formats, but this is OLDER technology. Technically video can be recorded in any frame rate to play back smoothly at least 24 frames and second (fps) and edited to a specific countries broadcast standard, however, changes in frame rates over 25 fps under or over the desired programs frame rate will start having noted effects or differences for PAL broadcast. High Definition PAL standards are the same pixel sizes as NTSC HD formats or in 4K or larger formats. NTSC is used in several countries including USA, Canada, Japan among others. NTSC standards were dated by 60 fps, or 60 hertz, and are still broadcast in these frame rates, or recorded in another frame rate to be used in film, online video, DVD, BlueRay or non broadcast. Anything can be transferred from differing frame rates for television or video production.
Video, Film and Television Production
Demo Reel
You can skip forward with arrow or icon, or to re-watch videos, please refresh the page. This is demo reel, with various production types, but you can see video by category on this page.
Here are our camera formats
Sony
Sony FS700R, a AVCHD format, that can also output RAW & 4K.
Sony PXW-FS7 & Sony XDCA-FS7 Extension Unit.
4K or UHD or HD based or SD based Quicktime ProRes, or DNxHD or Cinema DNG recordings.
MXF or MPEG2 SD or HD recordings.
Sony PMW F55 with Canon lenses in prime or zoom lenses listed below.
Sony AVC HD, a tapeless format.
XDCAM – PMW-320K with a Fuji 5.6×16 wide angle lens.
XDCAM – PMW-F3 with MTF Canon Mount.
XDCAM – PMW-EX3 with additional B4 lens mount.
HDV & DVCAM Dual mode camera, HVR-V1U HDV / DVCAM videotape camera.
3D HD: Sony HXRNX3D1U.
BetaCam SP – Sony DXC D30 BetaCam SP SD videotaping camera.
Go back up to the table of contents.

Canon Camera Crews
C300 recording MXF
DSLR cameras  like the 5D Mark II, Mark III or 7D
Panasonic format Camera Crews
AVCHD AG-AF100
DVCPRO HD with the HDX900
P2 with the HPX170 or HPX300
DVCAM/DV with the DVVX100A
Other AVCHD formats available
RED format Camera Crews
Arri Video or Film Crew
35III film camera with PL lenses
Amira experience
Alexa Mini
Alexa & experience with all Alexa cameras
Experience with other 35mm Arriflex cameras
GoPro Cameras
Hero 3+
Hero 4
Other similar cameras
Black Magic camera
URSA Mini
URSA Experience
Experience with other models
What Format Camera Crew? Does if Matter?
With all the the cameras out there, you can match cameras from the same model, and often the same manufacturer if they have have similar paint menus and sensors, assisted by a AC or a skilled director of photography within similar camera designs can match cameras of different types or formats. There are limitations to matching cameras, such as trying to match a CCD based camera with a B4 lens to a camera that uses 35mm format sensor technology, unless you adapt with a 35mm lens adapter & lens to the CCD based camera. B4 lenses are also used on CCD based cameras with multiple imagers but have been adapted to some 35mm formats, and this must be done by lens adapter or in the camera design to match to 35mm formats. There are several tricks like F-stop control, use of ND and distance to your subject can match a CCD or CMOS based B4 type lens camera to a 35mm format lens camera, more or less, but often less. Some cameras use 35mm sensors matched to B4 lenses with the capabilities of 4K, as well use of a servo zoom lens. Black Magic and Sony are the 2 foremost.
Contact Details
To hire / book our camera crew, crew members or other services in video, film or television production, please call  (720) 299-2084
Email:   This email opens a message in your email program / app.
Skype us at: misterphotonmedia or Nick Teti (Colorado).
WhatsApp: Nick, MisterPhoton.com
Source code and content copyright Nicholas Teti III,
Mister Photon Media LLC.