Local Boulder & Colorado area




professional freelance camera crew


& video crew: Film, TV, ENG, Corporate etc.

Telephone: (720) 299-2084
Email:

Are you in need of a local camera crew; either HD video, film or a television crew resource in Boulder or other CO areas? We're a local resource in these areas and through Colorado. As a hiring client you can count on our decades of professional experiences in varied production dating to 1990 by our founder Nick whom has skills covering all aspects of production.
About the Boulder CO Areas
Boulder Colorado USA has a large amount of diverse business, including national headquartered offices for several, or satellite offices. Additionally Boulder has a large scientific, engineering, technology, athletic & research community. Boulder also has many interesting people that make the media, recognition for all types of industry or technology, human interest stories and the attention of journalists (including several professional athletes). As a camera crew we have provided SD video crew services, 4K video crews (and larger sensor formats), and HD video crews with specific cameras, film production services, and corporate video services throughout the Boulder.
Camera or Video, TV of Film Crews,
surrounding Boulder CO, including HD or 4K
Our crew also videotapes, records, or provide filming through the surrounding Boulder areas from:
Lafayette
Louisville
Erie
Broomfield
Marshall
Superior
Longmont
Niwot
Gunbarrel
Golden
Jamestown
Nederland
Marshall
Superior
Eldorado Canyon
Boulder
Other Colorado areas
To the clients needing smaller scale production our camera services to these areas include freelance cameraman, director of photography, as well as videographer services or solo cameraman or we can arrange a 2 person/man camera, TV or video crew, even with other personnel aside from the typical camera & location sound, bringing gaffers, grips, data managers, teleprompter operator, additional camera operators, among several others and please read more directly below.
Camera Crew Members
We can also help other camera crews with members as well supporting productions throughout Colorado. Our support personnel includes:
production location sound mixer/recordist
videographer
director of photography
camera operator
cameraman/woman
teleprompter operator
gaffer
grip
swing grip
dolly grip
best boy
assistant camera – AC – camera assistant
producer
director
makeup
PA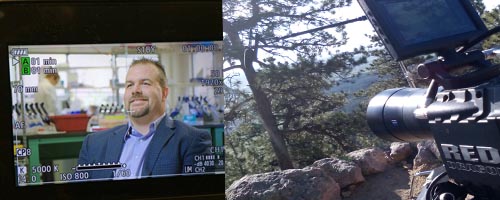 Our experienced solutions to all clients in
Boulder CO, & anywhere in Colorado
Our crews and crew members expertise can help any type of client including producing video or film or for television programming.
Broadcast Services
Broadcast Television/TV crews shooting for specific networks or programs
Television for commercials or infomercials
Other expertise that can assist any network or producer with a local camera crew or crew members to assist.
Some of our broadcast experience
Our prior Exact experience provides production veteran to the specific program needs:
reality TV,
commercials produced for any type of advertising or for political campaigns or PSA,
politics coverage with ENG for for commercials,
live broadcasts,
concerts,
factual entertainment/reality TV,
journalism,
current affairs,
sports,
documentary,
cable programming,
news,
syndicated TV,
or other need.
Film crews or 4K or larger sensor camera crews
35mm film crews, director's of photography or personnel for entertainment, features, advertising, documentaries, advertising or other productions with film stock or 35mm high definition cinema cameras. Also 35mm format HD video equipment, as well qualified crew members for options.
Other types of camera crew services
ENG video crews: News, live shots, uplinks, SNG, investigative reporting or related broadcast video with preferred network cameras. These crews are also often called an ENG camera crew or ENG camera crew services.
Broadcast TV/television crew services anywhere in Colorado.
Professional videotaping, filming, digital video recording for video, film or television production with preferred cameras by our videographer's. With transfer, editing, transcoding, or other services to clients.
HD or SD video crews equipped with specific cameras, shooting (videotaping or recording) either PAL or NTSC; for any type of production, we shoot the matching to your needs
EFP video crews aka EFP camera crews for specific programming or other production needs.
Corporate video production crew services – aka a corporate video crews.
Media transfer to DVD, YouTube FTP, Drop Box, WeTransfer.com, videotape, digital video file, Blue Ray.
We are in the local major metro areas in minutes as a dependable freelance resource including Denver metro, Colorado Springs, Boulder CO, Aurora, Fort Collins, among several other areas within minutes along with many suburbs. We also understand that video, TV and film production requires the resources anywhere in the state so consider our services where needed anywhere in Colorado.
Video, Film and Television Production Demo Reel
This is demo reel, with various production types, but you can see video by category on this page.
Crews for production for any client,
in Boulder or Colorado
Let's elaborate. Our experience and capabilities can help anyone; from the business, to the producer, the broadcast network or the production company or multi tier business partnerships needing top footage. If you can think of it, chances are we have shot something like, exactly like it or close or can help you. Our experience in the Boulder areas and CO include green screen, interviews of all scale, business to business or consumer advertising, charity and social campaigns, politics, internal company communications, television commercials, infomercial's, feature films, specific TV programs, documentaries, events, ENG/News, current affairs to think of a few. From planning, scouting, shooting, and personnel with the equipment, Mister Photon Media.